Waterfront Market Update - October 14, 2021
Posted by Chris Murphy on Thursday, October 14, 2021 at 9:20 AM
By Chris Murphy / October 14, 2021
Comment
The single family waterfront real estate market has begun its seasonal decline for 2021. As illustrated in the chart below, the number of actively listed single family homes peaked in July of this year and stepped down slightly in the two months following. The seasonal cycle for 2021 represents somewhat of a return to normalcy with respect to the seasonal increase and decrease of actively listed single family waterfront homes. In 2020, amidst the initial surge of the pandemic, inventory peaked in April with 791 actively listed single family waterfront homes and then swiftly declined to the lowest inventory in recorded history at 268 single family waterfront homes in February of this year. At the peak in July, there were 475 actively listed waterfront homes, which is still well below the last historical low in early 2006 of 1,250 actively listed waterfront homes.
Actively Listed Single Family Waterfront Homes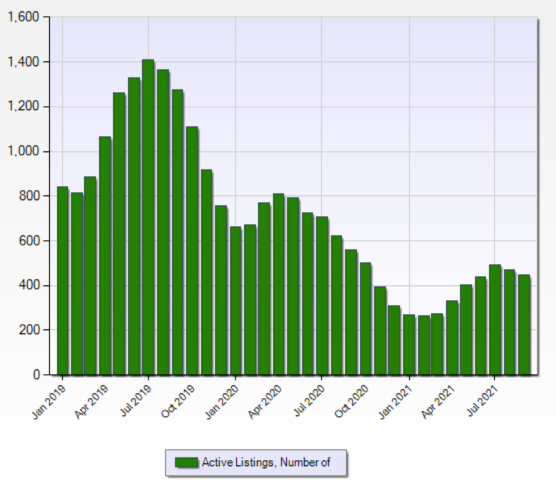 Although we saw significantly more waterfront homes listed in 2021 as compared to 2020, the demand has been stronger than ever. As long as a waterfront property is not astronomically overpriced, it will most likely sell at or above the listing price. The chart below illustrates the pent up demand for waterfront properties, especially in August and September where the blue and green bars are virtually identical. This means that the absorption rate of new waterfront listings is nearly 100%.
Number of New and Pending Waterfront Listings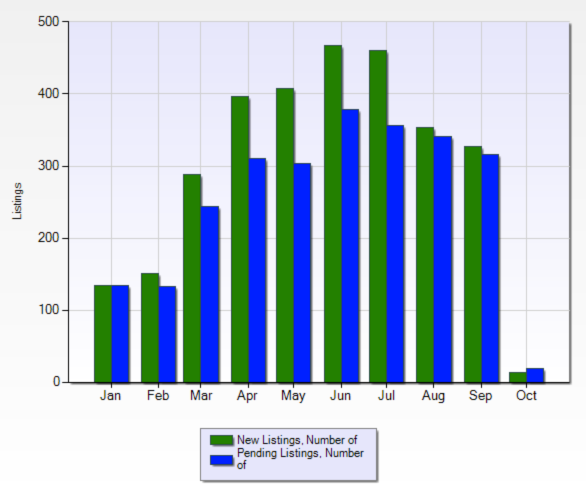 The charts below are dynamic, so we encourage you to scroll your mouse over them to see what the values are for the County in which you are seeking a waterfront property. As always, if there is anything we can do to help with your waterfront home search, or if you would like to learn about our industry leading waterfront marketing platfrom, please don't hesitate to reach out!