Fourth Quarter 2019 Waterfront Market Report
Posted by Chris Murphy on Monday, January 20, 2020 at 10:47 AM
By Chris Murphy / January 20, 2020
Comment
The latest comprehensive market report was recently published by Coldwell Banker Bain and we were thrilled to contribute to the waterfront analysis of 7 counties throughout the greater Puget Sound.
Mike Grady
To kick off the comprehensive market report, Mike Grady, Coldwell Banker Bain President and COO, reflected on the 2019 statistics and the interesting turn of the market in the fourth quarter.
"As we closed out the year, 2019 turned out to be quite different than we had expected. We expected
that because the double-digit appreciation of home prices had modified in May 2018, more sellers would proceed with selling their existing homes in 2019. This, of course, would have resulted in more inventory, stabilizing prices even more while increasing units sold. Had this transpired, 2019 would have resulted in increased volume as a result of more units and slightly higher average sales prices than in 2018.
However, that didn't happen. Instead, the 'aberration' we saw in November continued… so perhaps it's not an aberration after all and we may be returning to the 'old normal.' December of 2019 proved to be better than December of 2018 in just about every single category – this notwithstanding weather that was not as mild as last year, and weather typically has an impact on sales. Yet we see again that the number of pending transactions outpaced the number of listings taken along with an increased appreciation. With inventory in King County below one month, we can only surmise that 2020 will show a return to rising home prices as a result of the lack of inventory and continued robust job market. So, while buyers continue to benefit from low interest rates, there are simply not enough homes for sale and the market, once again, is leaning more strongly toward sellers. These predictors indicate that the first quarter of 2020 will be active."
Chris Murphy
At the end of every quarter, we conduct a high-level analysis of waterfront single-family property sales. We are proud to contribute this analysis to Coldwell Banker Bain's quarterly market report and we hope you find this information valuable in your search for the perfect waterfront property!
In the fourth quarter of 2019, the seven counties included in this analysis experienced a -20% decrease in active waterfront inventory, a -12.5% decrease in sold waterfront properties, and a 2.58% increase in the median price of sold waterfront properties.
Taking a comprehensive look at 2019 compared to 2018, the seven counties included in this analysis experienced a -5.56% decrease in active waterfront inventory, a -11.2% decrease in sold waterfront properties, and a 0.89% increase in the median price of sold waterfront properties.
King County realized the greatest change in the median price of sold waterfront property with a 25.5% increase in 2019 sold property value compared to 2018, despite King County having the greatest increase in actively listed waterfront properties (16.5% increase).
Excluding King County, the average number of waterfront listings was down more than -11% across the other 6 counties in this report for 2019 and down more than -22% in the fourth quarter. However, the reduction in inventory didn't directly translate to increases in the number of sold units or the price of sold properties, both of which were, on average, flat in the fourth quarter and 2019 compared to 2018 (+/- 2%).
The trends analyzed here illustrate that waterfront properties must be priced and marketed with each property's unique characteristics and the market in which the property is located at the forefront of the value analysis. In some waterfront markets, inventory has been decreased significantly and waterfront buyers are accepting higher purchase prices and/or concessions on their list of must-haves. We continue to find the greatest success in meticulously heeding the characteristics of recently sold waterfront properties and pricing our waterfront listings at a market value that aligns with what most well qualified buyers are willing to invest.
Also included with the market report are some helpful charts and illustrations depicting the changes in the waterfront market. Here are the fourth quarter waterfront market report charts that we found to be valuable illustrations of market movements: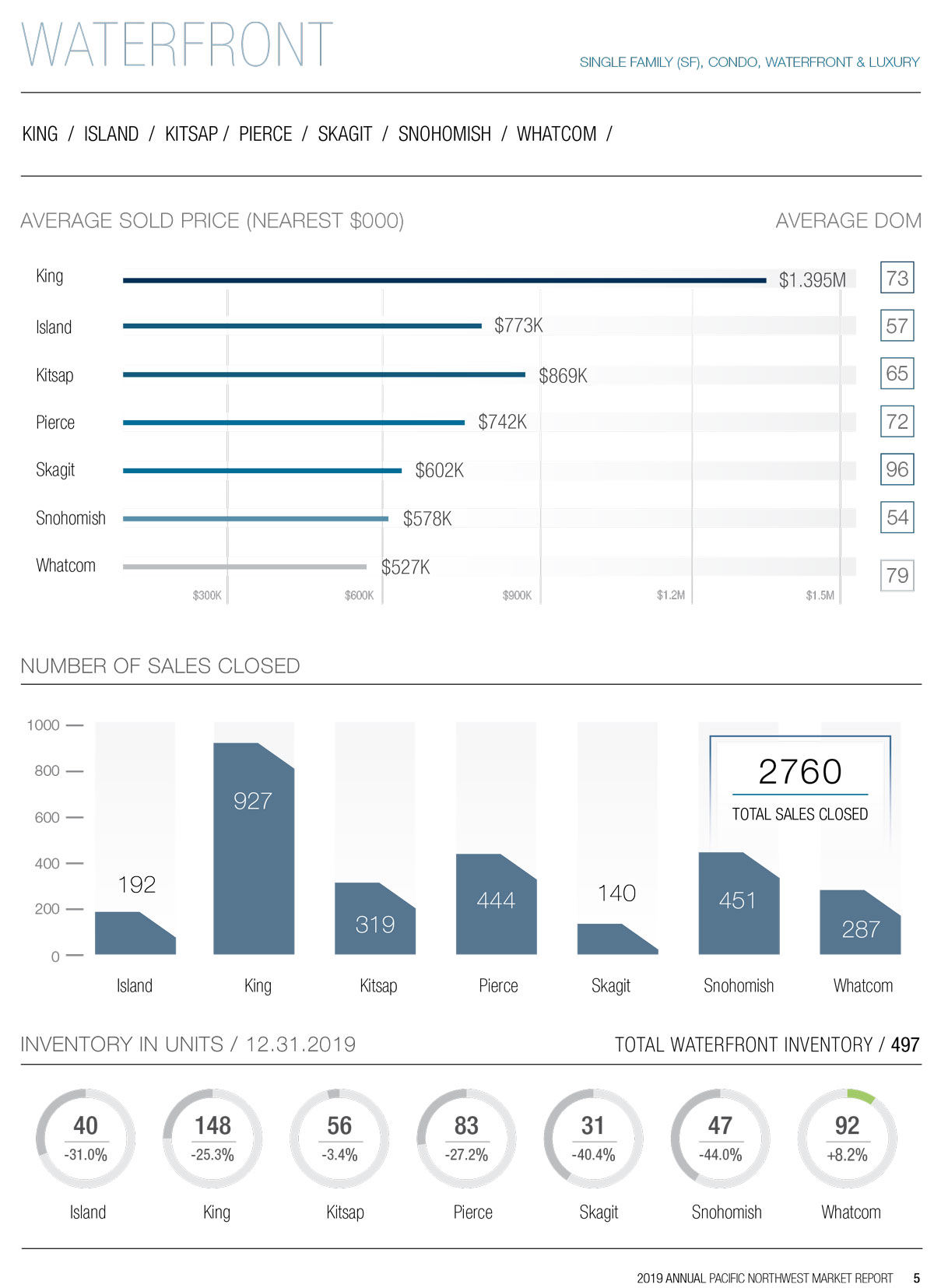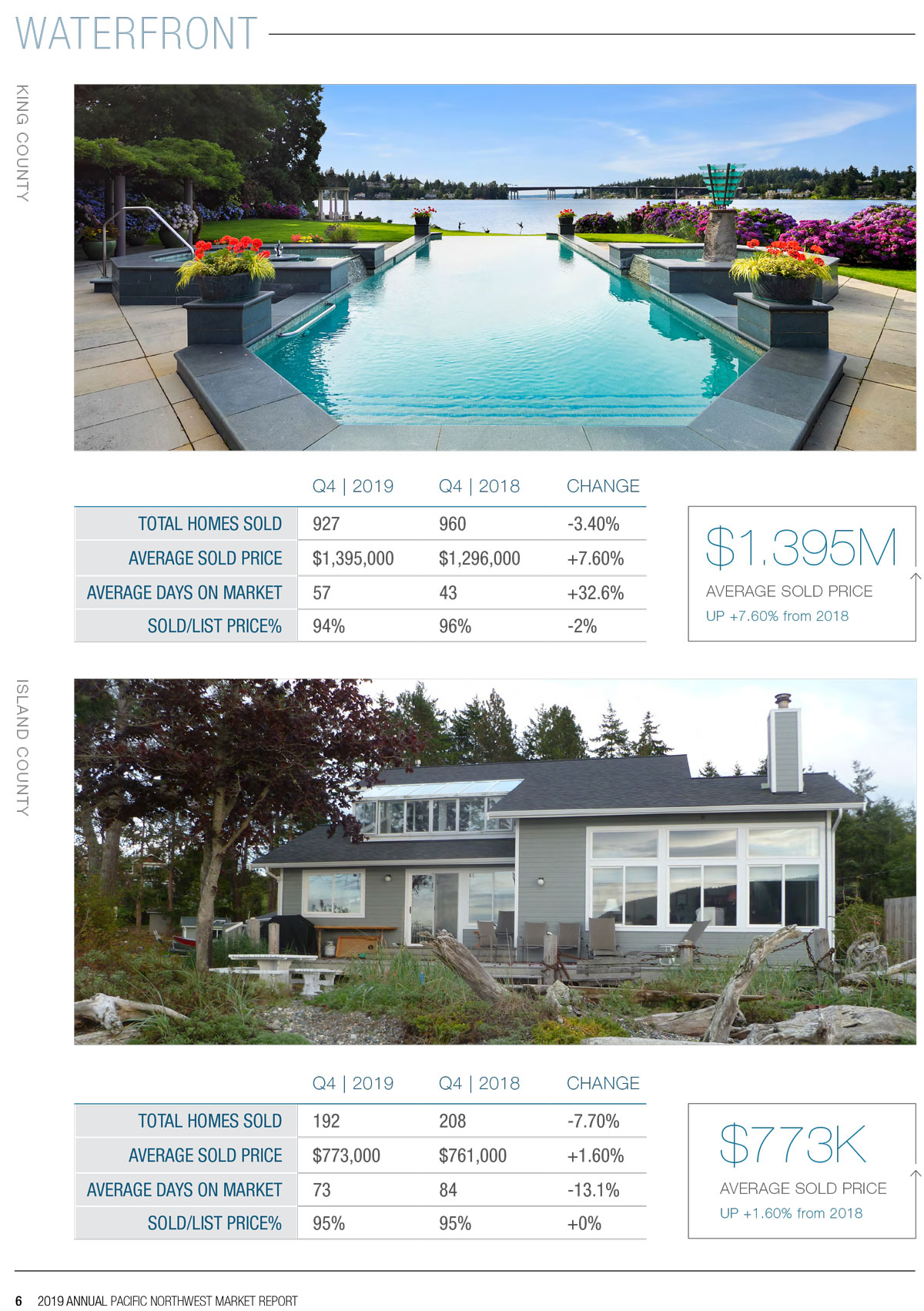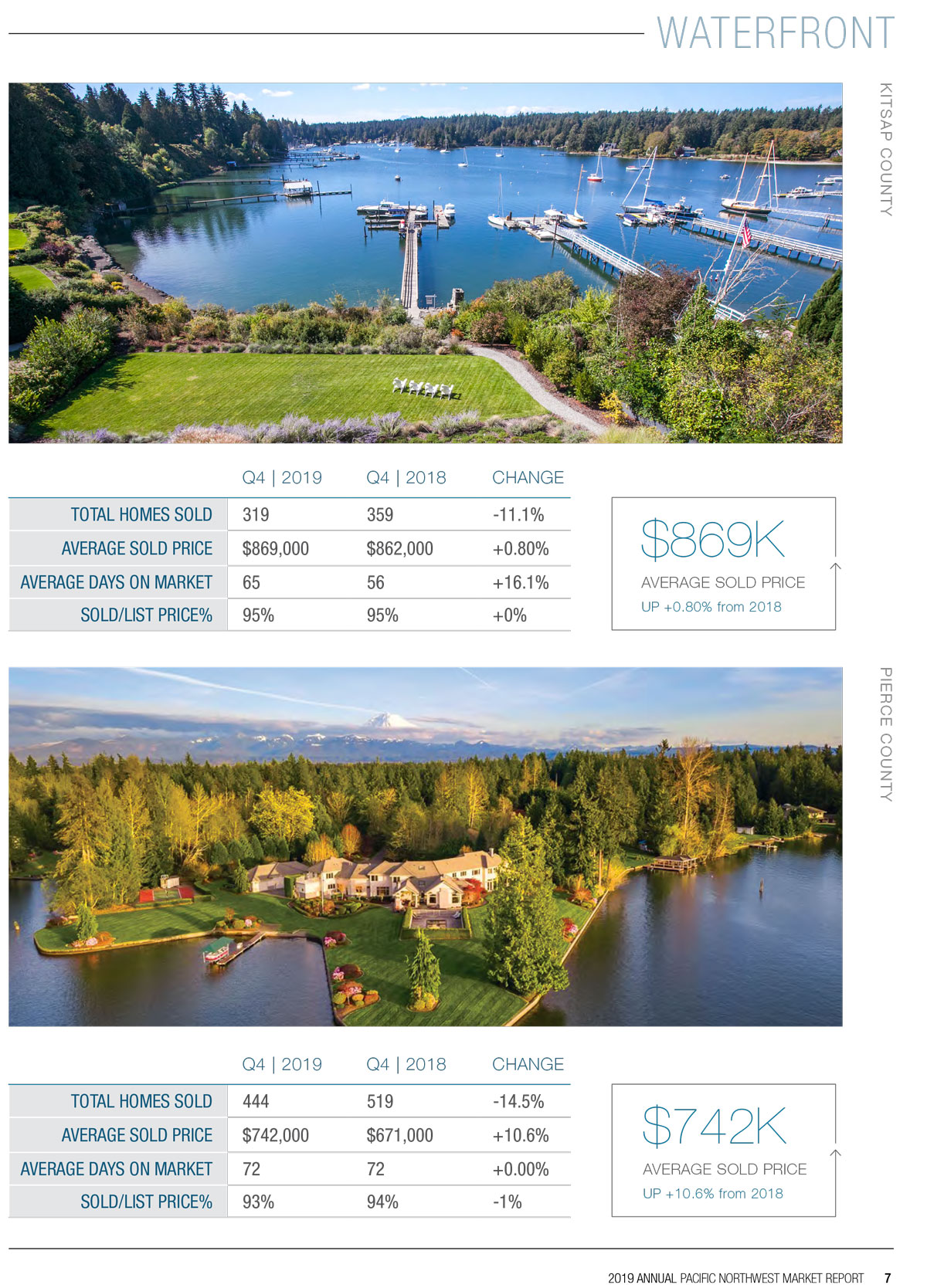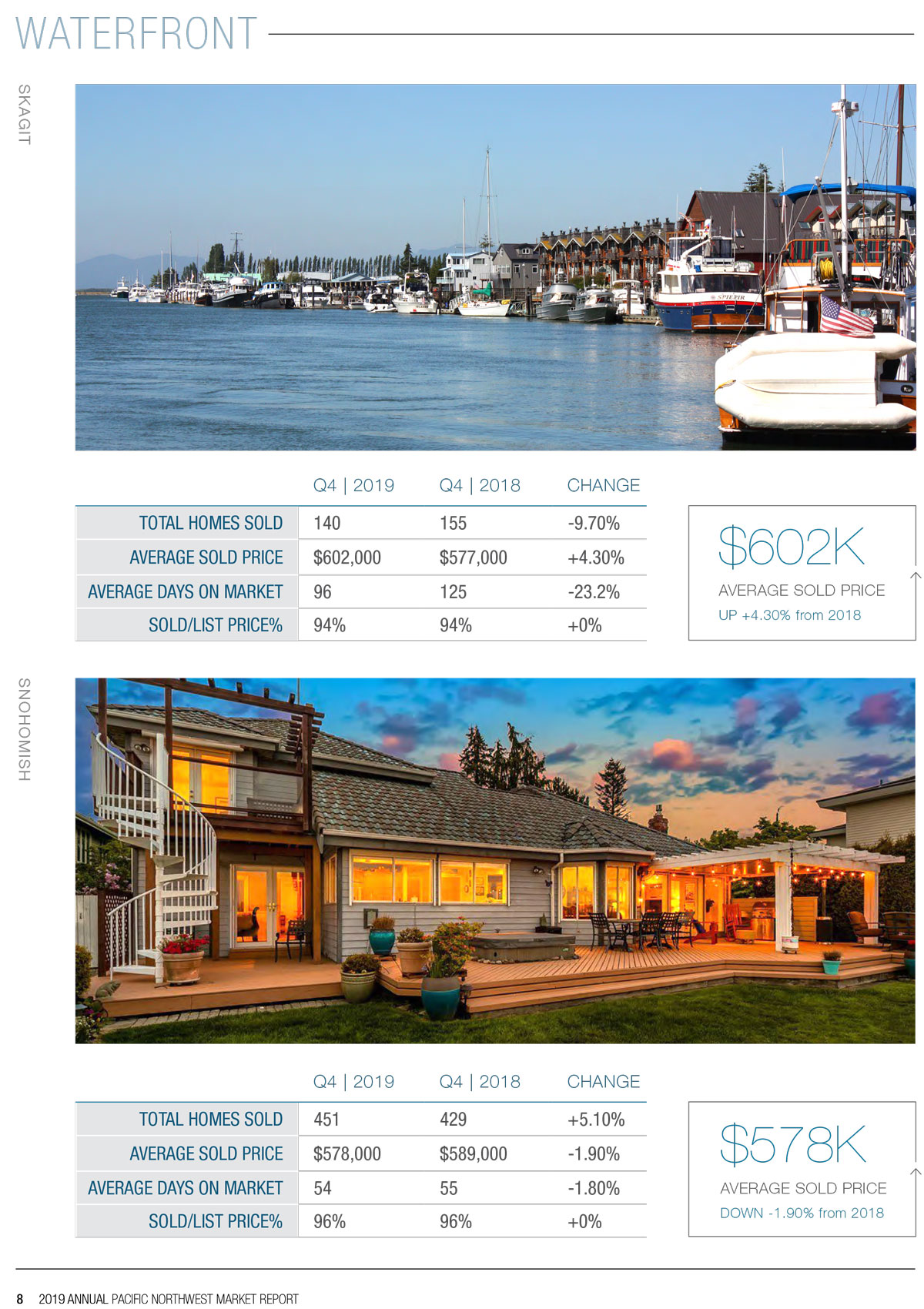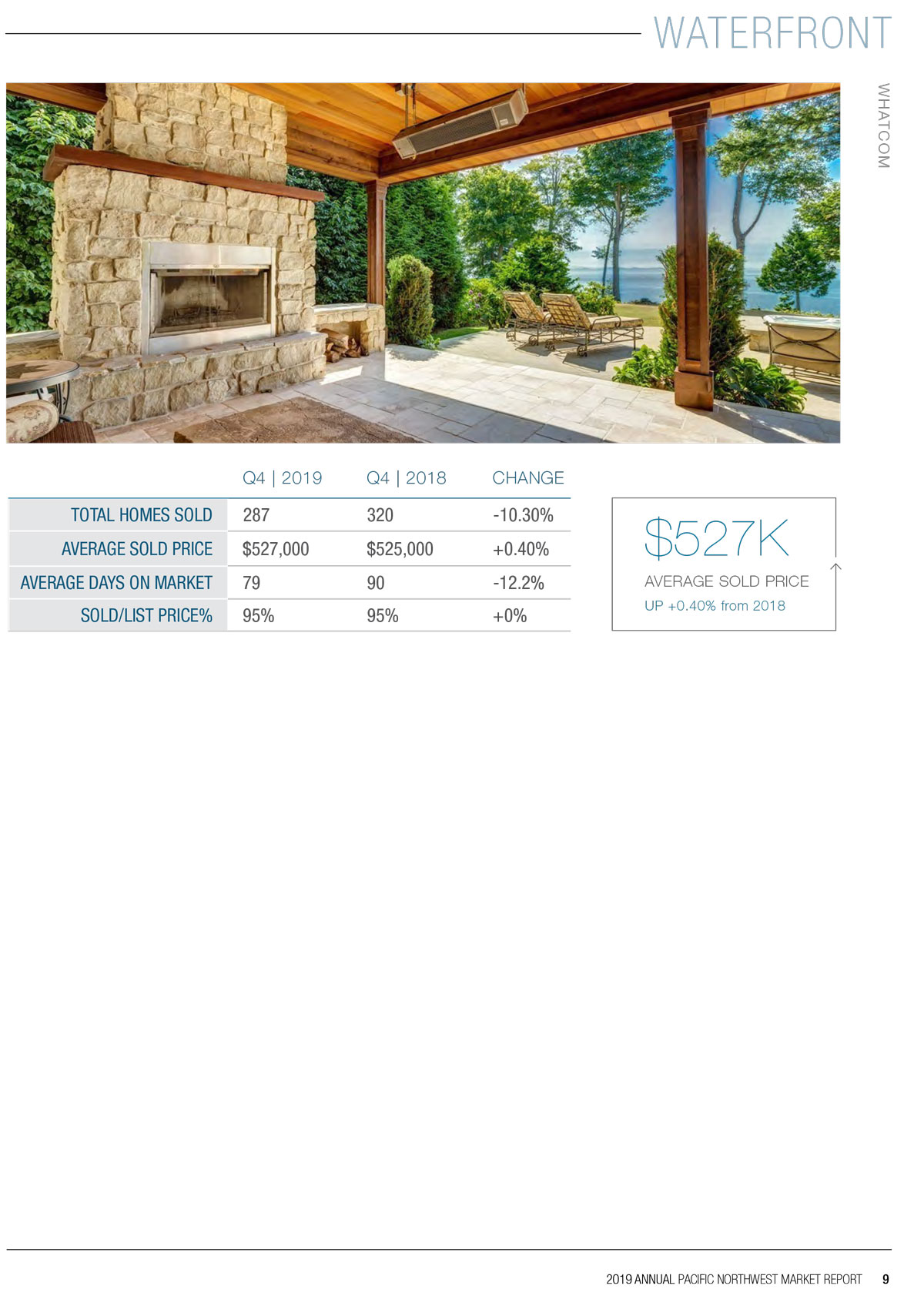 To view the complete 2019 Fourth Quarter Waterfront Market Report, please click here.
Disclaimer:
*Information and statistics derived by CB Bain from the Northwest Multiple Listing Service (NWMLS), Regional Multiple Listing Service (RMLS) and the Multiple Listing Service of Central Oregon (MLSCO) each quarter. Statistics not compiled or published by the NWMLS, RMLS or MLSCO.