Fort Ebey State Park
Posted by Puget Sound Specialist on Friday, April 4, 2014 at 12:27 PM
By Puget Sound Specialist / April 4, 2014
Comment
Fort Ebey State Park can be found on Whidbey Island near the town of Coupeville, featuring three miles of saltwater shoreline along the Strait of Juan de Fuca as well as a freshwater lake. The park was originally a coastal defense fort during World War II, part of the original "Triangle of Death," that protected Puget Sound from invasion with concrete platforms marking the gun locations.
Today, visitors can enjoy saltwater or freshwater fishing, crabbing and other water activities as well as miles and miles of hiking and biking trails found throughout the 645-acre park.
Location
The park and campground is located about two miles north of Coupeville and eight miles south of Oak Harbor on Whidbey Island. The island is connected by the Deception Pass Bridge on Washington State Route 20, making it accessible on the north end by vehicle. For those coming from the Seattle area or the Olympic Peninsula, it is easier to reach via ferry from Mukilteo to Clinton or from Port Townsend to Coupeville.

Campsites and campground amenities:
The campground features 39 standard campsites and 11 utility campsites with electricity and water hook-ups. It also offers one water trail campsite that is available only to campers who arrive via a human-powered watercraft.
There is one ADA restroom as well as two shower facilities, one that is ADA. There is no dump station available. Each site includes a picnic table and fire pit with a grate for grilling. Sites offer plenty of shade as well as lots of privacy. There are many sites considered to be "the best," including 1, 3, 15, 17, 22, 24, 26, 28, 29, 30, 36, 38, 39 and 46. Reservations can be made online through Washington State Parks.
Campground and area activities
Enjoy panoramic views of the water, Olympic Mountains and magnificent sunsets. This is the spot for the very best vistas on the island of the Strait of Juan de Fuca. Just a few of the activities available here in addition to hiking, biking and fishing, include paragliding, surfing and bird watching.
Beaches are filled with beautiful pieces of driftwood that are legal to remove - just don't take a truck load. Creative types can make all sorts of amazing art objects from them - or something as useful as a walking or hiking stick.
With the diverse terrain found here including acres of evergreens, ponds, marsh, bluffs and saltwater shores, this is a bird lover's paradise year round. The park is on the Puget Loop of the Great Washington State Birding Trail. Red crossbills can be seen frequently throughout the year and eagles are often spotted at Lake Pondilla.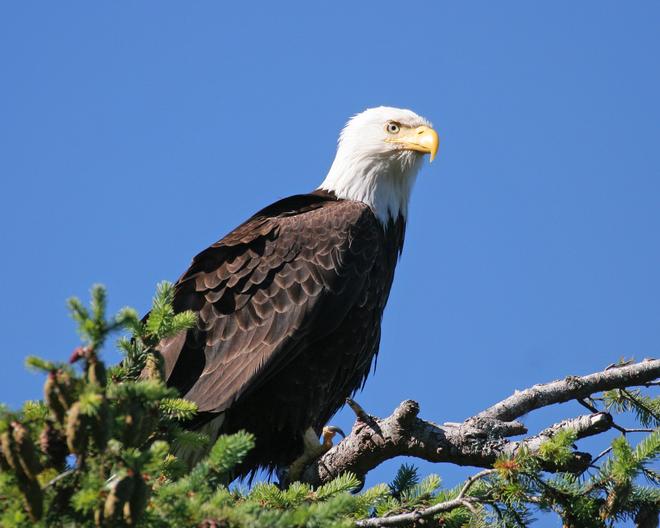 Other birds that can be viewed include Cooper's hawks, willow flycatchers, chestnut-backed chickadees, red-breasted nuthatches, golden-crowned kinglets, harlequin ducks and many others. Watch for migrating gray whales just offshore as well as harbor and Dall's porpoises and the occasional orca whale. Along the Old Gun Battery Trail look for great horned, barred and Northern saw-whet owls that nest in the area.
Visitors can also explore concrete bunkers that were built for the original military fort in 1942.
The charming town of Coupeville is just a few minutes from the park. The historical waterfront is well-worth visiting. Take a self-guided walking tour with a free map available at the Island County Historical Society Museum. Over 50 structures in the town are on the National Register of Historic Places with plagues noting the building dates as well as the original owners of the stunning Victorian homes and commercial buildings.