Discovery Park
Posted by Puget Sound Specialist on Tuesday, May 20, 2014 at 12:10 PM
By Puget Sound Specialist / May 20, 2014
Comment
Seattle's largest park is a massive 534 acres set upon the shores of Puget Sound rising up to Magnolia Bluff overlooking the glistening waters. Magnificent views of the Cascade and Olympic Mountain ranges as well as nearly 12 miles of walking trails, two miles of protected tidal beaches, sheer sea cliffs, open meadows, forests, streams and sand dunes can all be found in its diverse terrain.
The park is also home to West Point Lighthouse and the majority of the Fort Lawton Historic District is found within the park's borders.
What you need to know about visiting
Discovery Park is located about 5 miles northwest of downtown Seattle at 3801 West Government Way in the Magnolia neighborhood. There is no cost to get in, or to park. Keep in mind that to get down to the beach will require a 1 ½ mile walk from any of the three parking lots. There is a small parking area near the beach; however, it is reserved for those with a special permit. They are available on a first-come, first-served basis only for those who are physically unable to walk down to the beach due to injury, illness or another condition through the Discovery Park Environmental Learning Center. In addition, families with children under eight years old and those who are 62 years of age or older can get a permit when available.
The park is open from 4 a.m. to 11 p.m. every day of the year with the Environmental Learning Center open from 8:30 a.m. to 5:30 p.m., Tuesday through Sunday. Dogs are allowed in the park other than on the beach or on the Wolf Tree Nature Trail.
Activities and Attractions
You'll find miles and miles of beach that stretch along the park's western shore, ideal for walking, beachcombing or exploring tide pools at the rocky north beach when the tide is -1 or below; at south beach you'll find a wide sandy beach with tide pools found at any low tide.
The park also offers a children's playground, tennis courts and basketball courts.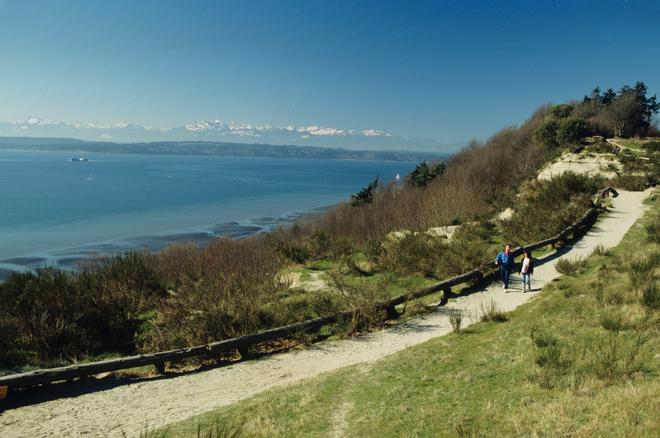 With 7 miles of hiking trails, this is another popular activity in the park. The 2.8 mile Loop Trail will bring you through sand dunes, meadows and forests. A number of trails can be found off the Loop Trail leading to the beaches and Puget Sound. The quarter-mile Wolf Tree Nature Trail includes a large collection of native plants.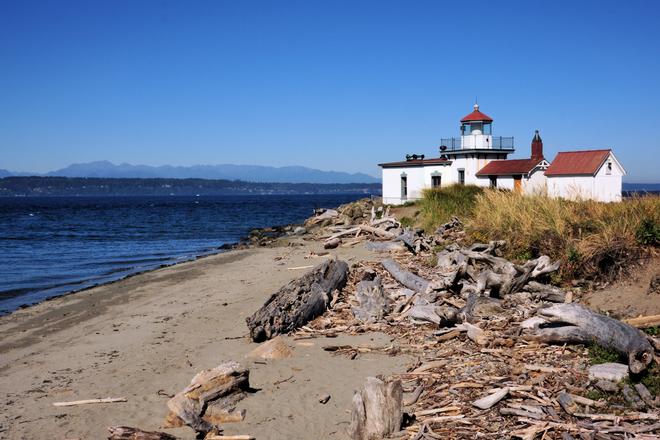 Hike to West Point Lighthouse, built in 1881 and found on the westernmost point in the park. To get there, take the Loop Trail to South Beach Trail or Hidden Valley Trail which connects with Discovery Park Boulevard just above the beach and the lighthouse.
Pearl Jam fans might be interested to know that the band's music video for "Hunger Strike" was filmed at the park and features the lighthouse.
Take a kayak out on the water, bike the trails or just enjoy a picnic on the grass. Don't forget your camera as there are many picture-perfect photo opportunities here, including majestic views of Mount Rainier on a clear day. This is also a bird watchers paradise with the diverse habitats offering the chance to spot over 270 different species.