2020 Waterfront Market in Review
Posted by Chris Murphy on Friday, February 12, 2021 at 2:53 PM
By Chris Murphy / February 12, 2021
Comment
The waterfront real estate market in the greater Puget Sound experienced an extraordinary year in 2020. The first quarter gave us a hint of the competitive landscape that was forthcoming, but the demand for waterfront properties as a result of COVID-19 created an atmosphere in which almost every waterfront listing, priced relatively appropriately, received many competing offers with limited contingencies.
The year concluded with the median waterfront inventory down -41.4% across the seven counties analyzed in this report, culminating in the fourth quarter with median waterfront inventory down -57%. Considering waterfront inventory was already lean in 2019, nearly halving the available listings produced a significant increase in the market value of waterfront properties.
Another clear indicator of the immense demand for waterfront properties is the fact that, despite inventory being nearly cut in half, the number of sold waterfront properties increased approximately 8% across the seven counties included in this report. Pierce County and Kitsap County captured the top two spots on the charts with more than a 19% increase in sold waterfront properties.
Although the median sold price of waterfront properties is a function of the waterfront listings offered for sale and not a precise indication of the degree of value appreciation for the waterfront market as a whole, it is still fascinating to note that the median sold price of waterfront properties increased nearly 17%. Similar to the number of sold waterfront properties, the peripheral Puget Sound counties experienced the greatest increase in median sold price with Snohomish and Whatcom County over 20%. Island County experienced the greatest increase of median sold price at nearly 27%!
2021 is already off to an incredibly fast start. The proprietary web metrics we collect from WashingtonWaterfronts.com illustrates that demand is equivalent to what we would normally be experiencing in May – the heart of the high selling season. We expect inventory to increase somewhat as the year progresses, but not much. And, with mortgage interest rates still hovering around all time lows, demand should remain extremely high. If you are considering selling a waterfront property, 2021 will be an ideal time to maximize your selling price and experience a smooth transaction with limited contingencies.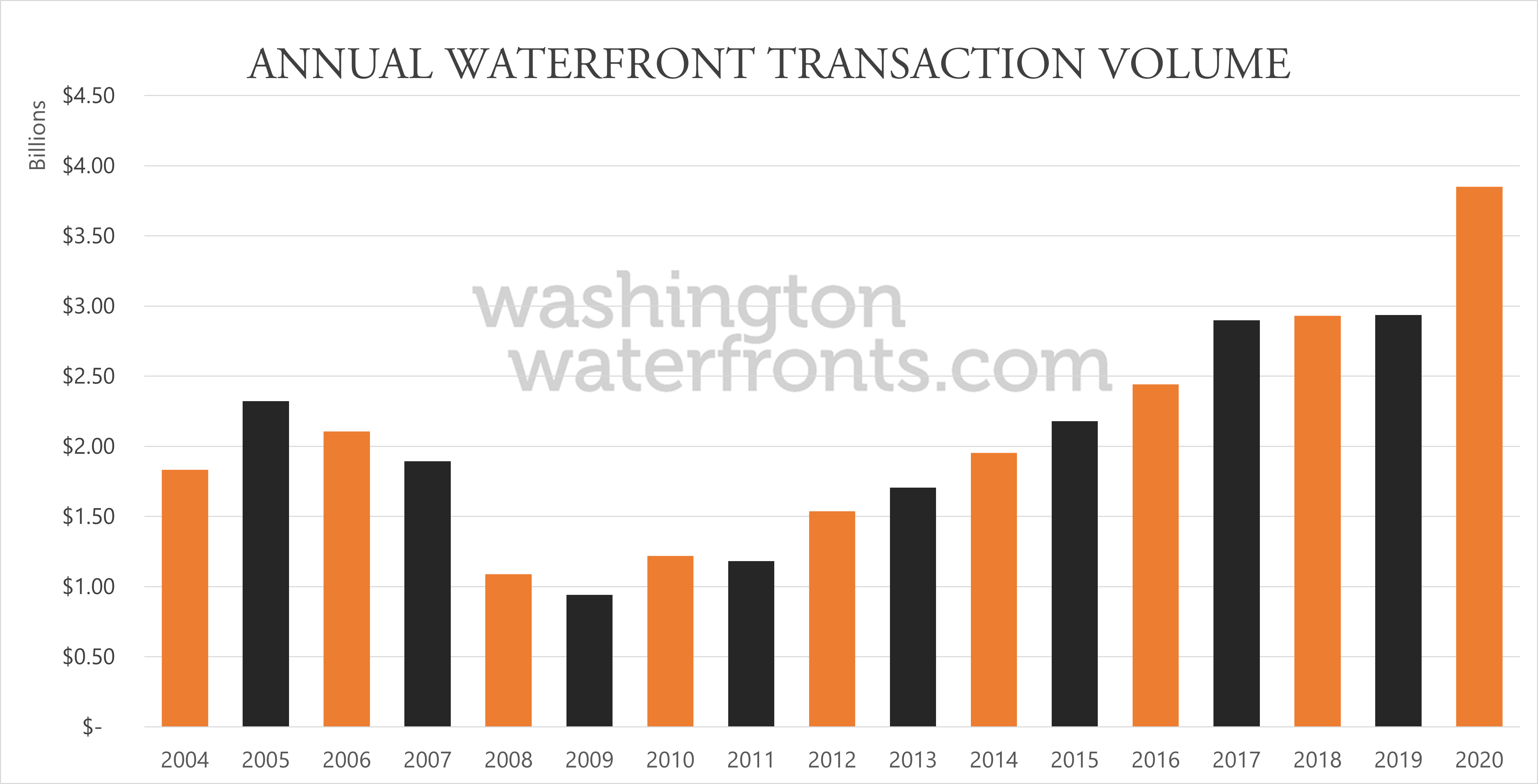 2020 Waterfront Report Statistics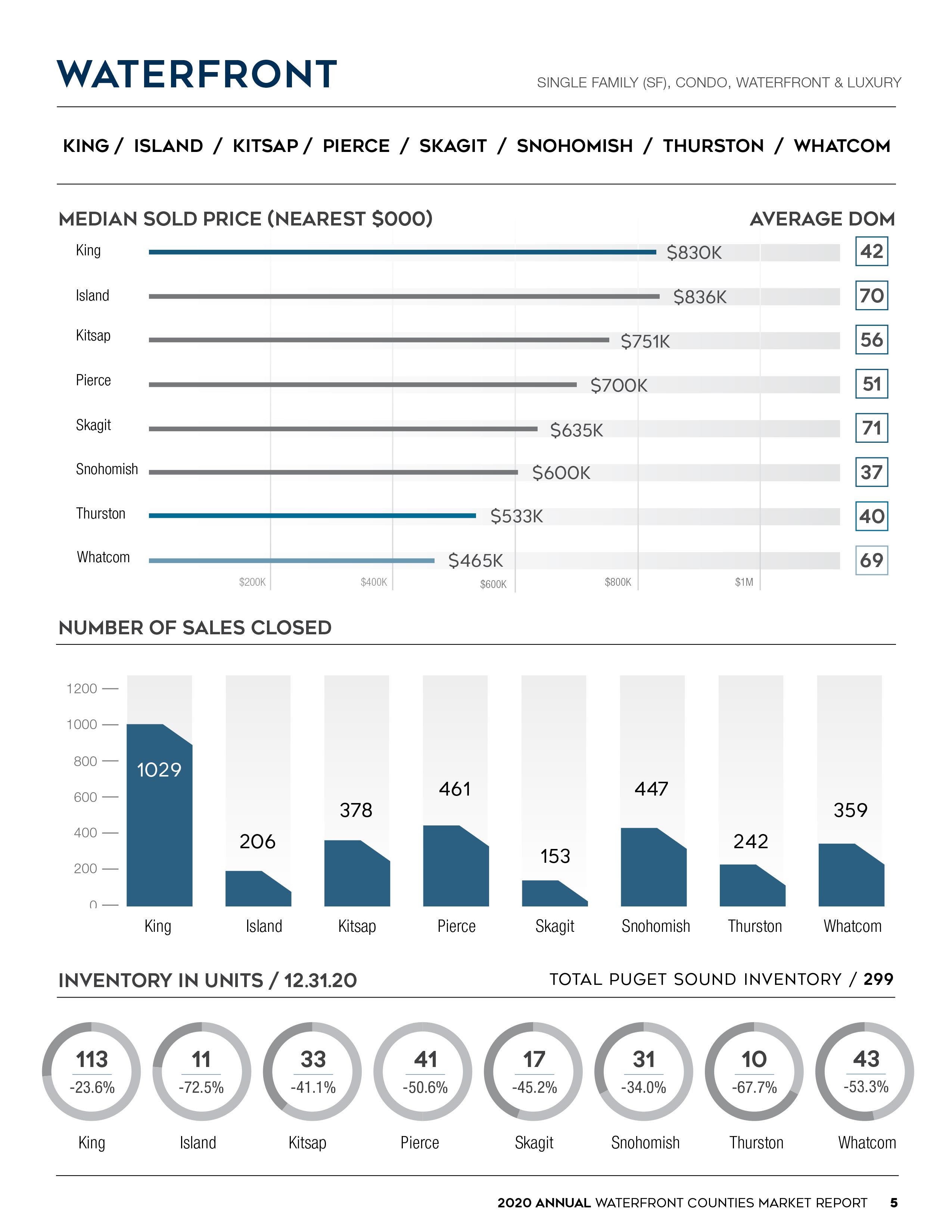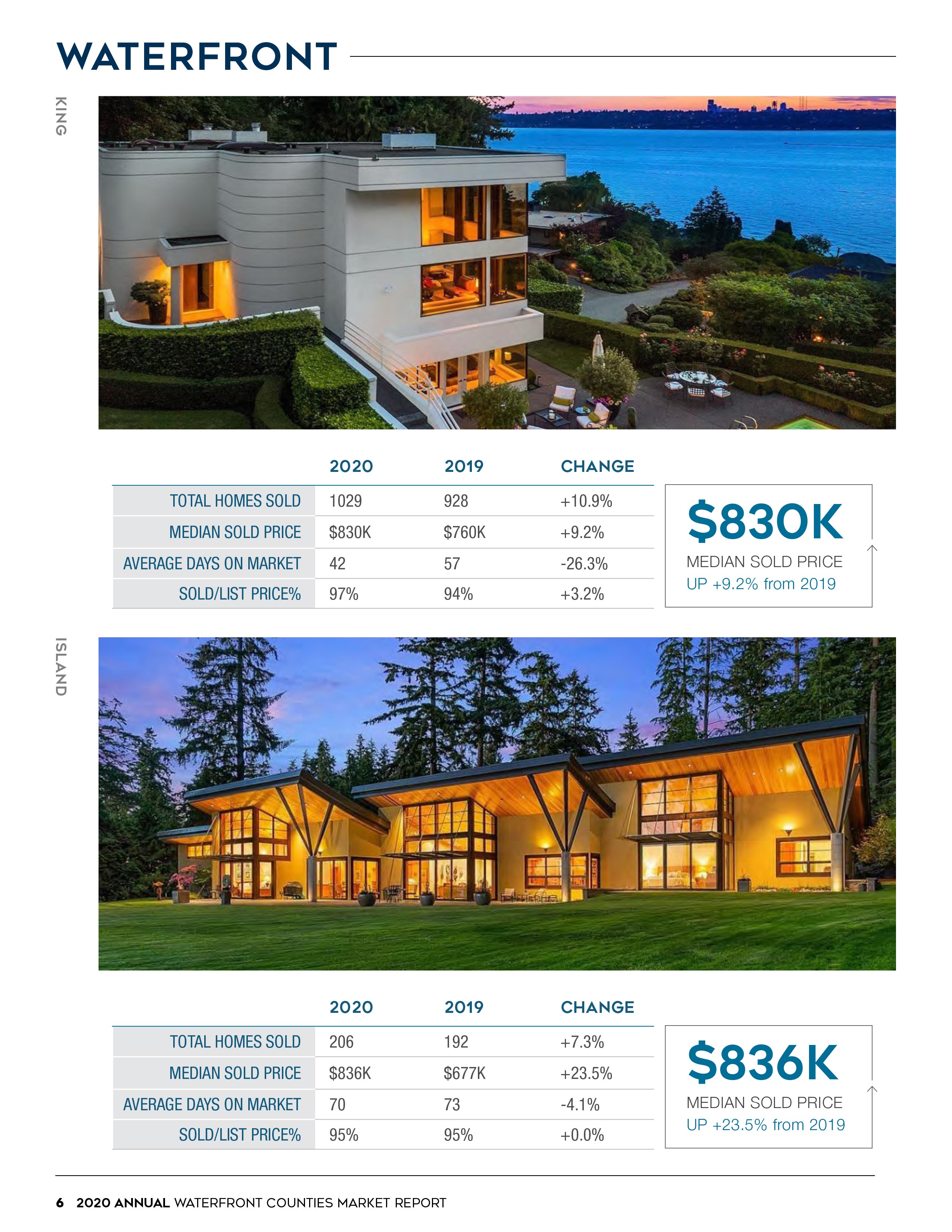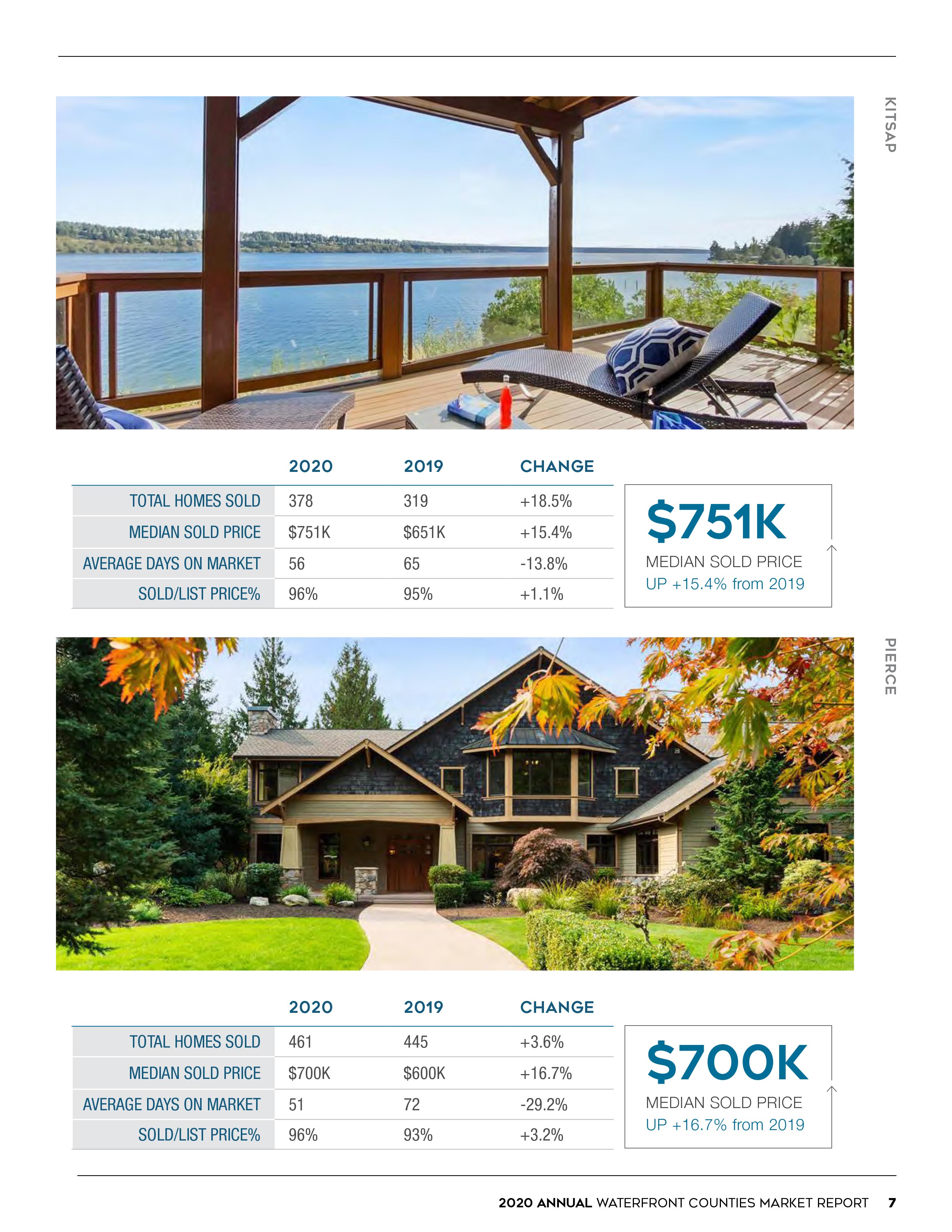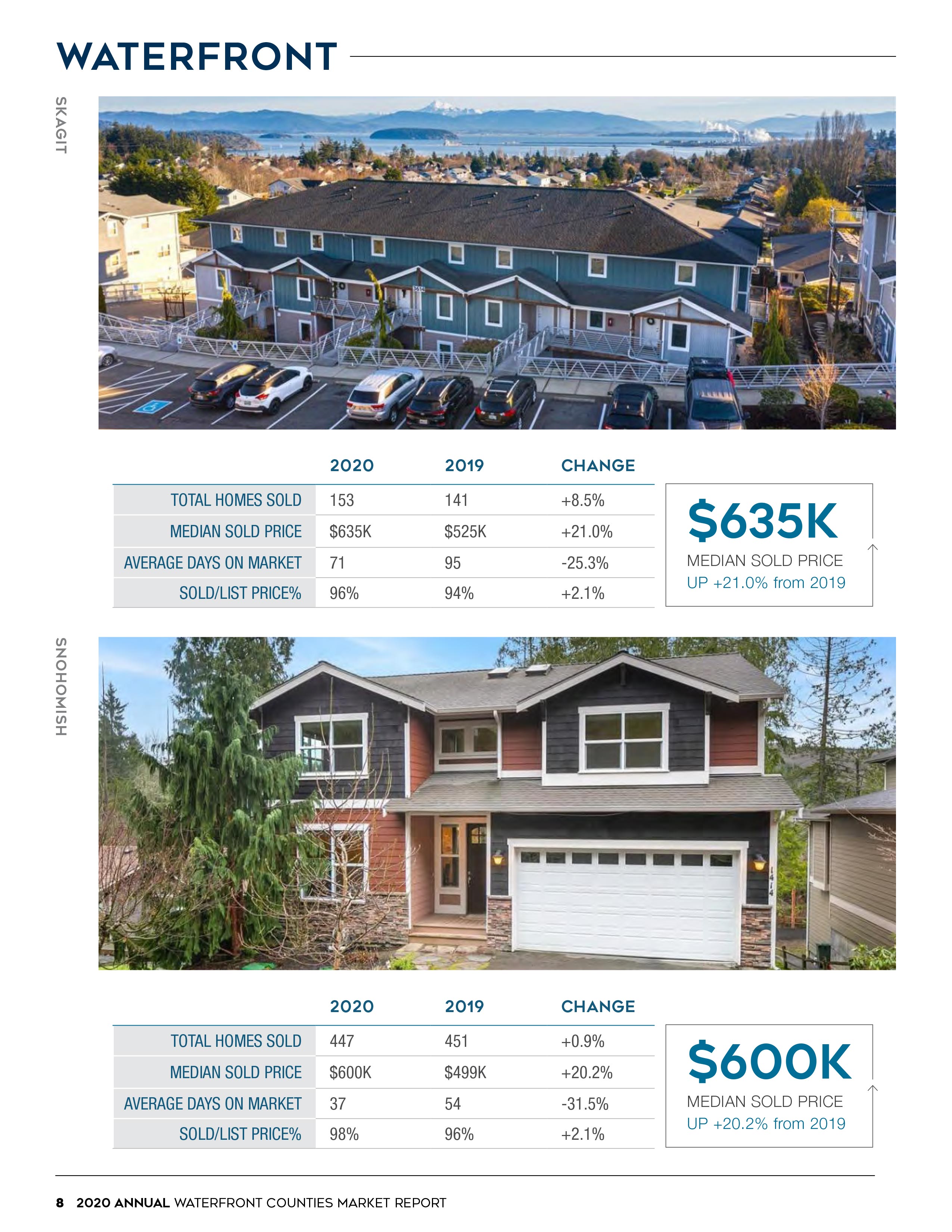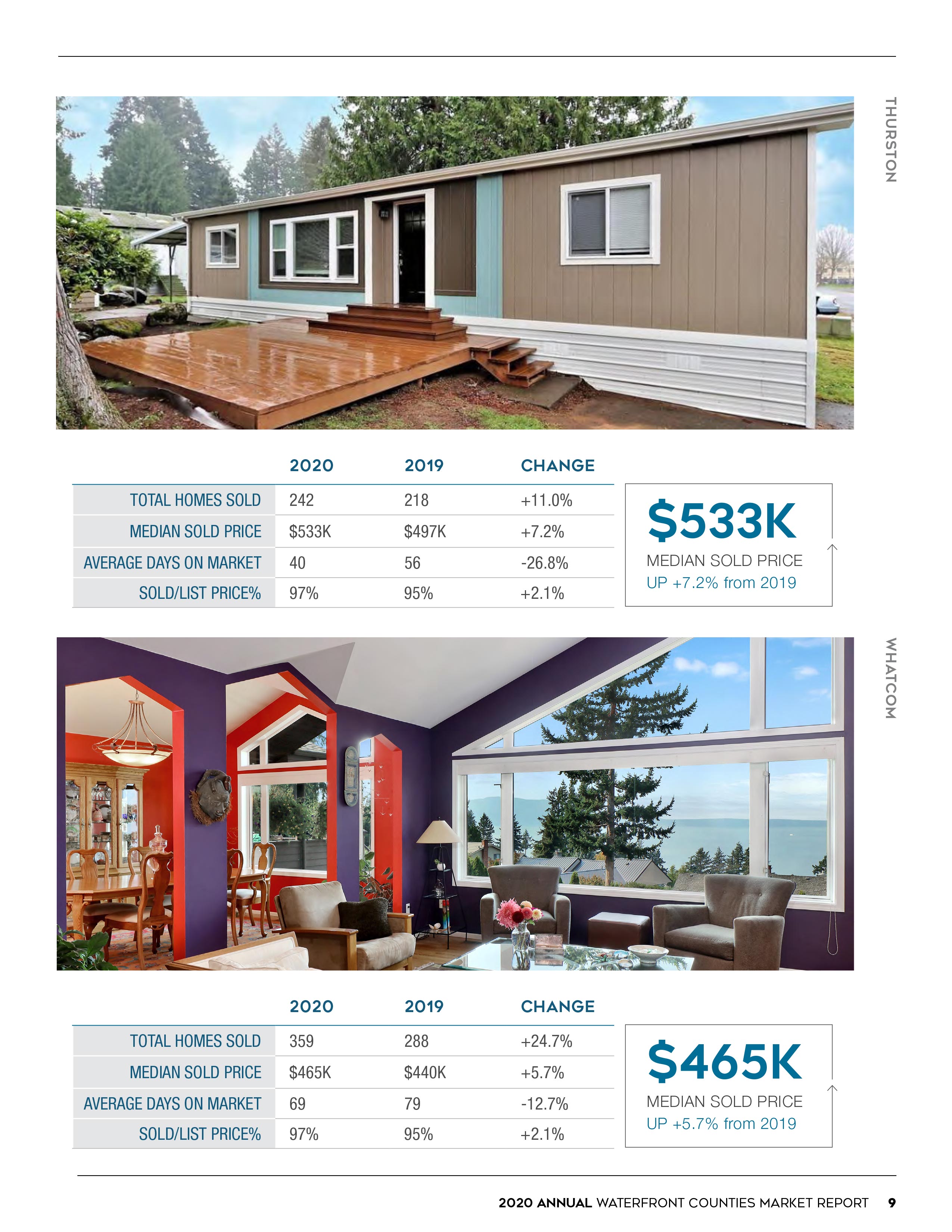 Thinking of Selling Your Waterfront Property?
In our professional opinion, there has never been a better time to sell your waterfront property. Available inventory is at an all time low and mortgage interest rates continue to drive significant demand for waterfront homes. Our proprietary industry-leading marketing platform enables us to sell waterfront properties faster, with fewer contingencies, and for record breaking prices. We'd love to share our fully custom marketing strategy focused on the story and value of your waterfront property and how we reach highly targeted qualified and discerning real buyers.